Join Tom's Trips at Temptation Resorts Cancun Mexico
The Rooms at Temptation are above 5 star accommodations! You will undoubtedly be treated to a retreat from the mundane when you visit Temptation Resort.
Host Couple Tom and Bunny will be on hand to make your vacation a success.
Courtyard meet and greets daily
Courtyard games to create an interactive vibe with our guests
Group dinners both at the resort and away
Organized excursions
Tom and Bunny will host you and your friends this week to bring you an exciting week that only Tom's Trips is known for.
Click the banner image below to book Your trip with us and be sure to put in the dates September 29th thru October 6th or arrive earlier and leave later! your choice.
Experience up close and personal, our unique, one-of-a-kind "Playground for Grown-Ups", 21+. Brace yourself for a whole new level of electrifying, adult vacationing! While playing at our adult-centric, superior all-inclusive, topless-optional resort, you will enjoy a sense of freedom and empowerment you never knew existed, and not to mention an insanely sexy amount of fun.
Karim Rashid, the creator of "sensual minimalism", concept inspired by the human body, has redefined Cancun's skyline with a spectacular, seven-story, 428 room superstructure full of sensual curves and bright colors, stimulating you with a sensual vibe throughout the entire property.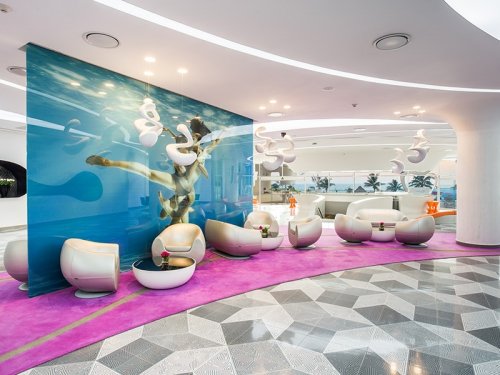 loading…
You will find yourself being seduced by all that our unique, signature playgrounds have to offer. Try something new, something you have never experienced before, go topless! You won't have to worry about poorly fitting bathing suit tops and funny tan lines ever again when living your topless-optional dream, at the most provocative open-minded beach in the Caribbean. Throughout the day feel the electrical currents pulsate through
your body at our electrifying "Sexy Pool", or join us at "Bash", a high-energy hotspot with riveting, nightly entertainment. Or if you prefer to embrace the game of seduction with your couple, our signature, aphrodisiac restaurant, "SHE", is the playground for you.
Set off on a journey of the senses, with always indulgent culinary experiences at one of 7 specialized restaurants, accounting for more than 15 cuisines from around the world. Compliment your gastronomic experience by mixing & mingling in a vigorous and exciting atmosphere at five different bars, where you will enjoy round-the-clock premium beverage service.
Free your spirit & find your fun, at our unique "Playground for Grown-Ups" … a refined, elevated, original concept. Let your hair down and accessorize your favorite suit… Feel trendy and act provocative while living an enhanced, personalized guest experience including the highest international hotel standards and ground-breaking design, complemented by riveting entertainment, global gastronomy and luxurious accommodations.
Highlights
Theme Parties