Tom's Trips hosts trips to some of the most exotic and erotic clothing optional and topless destinations on the planet. The resorts we partner with offer the finest in all-inclusive experiences. We have hosted trips to all of these resorts and can attest first hand to the service and inviting atmosphere that exists. We welcome you to join us in exploring the many pleasures that Hedonism II, Desire, Temptation, Hidden Beach, Sea Mountain, & The Couples Cruise have to offer.
Remember – For a Good Time Call Tom's Trips
Hedonism II – Negril, Jamaica
From the moment Hedonism II's gates opened twenty-five years ago, it's been the most widely recognized, and notorious, resort in the world. Words really can't quite describe the thrill of actually being here. It's the ultimate guilty pleasure, only without the guilt. "There's no such thing as a typical day at Hedonism II." No two days are ever alike. Sure, the water's always warm and the sun's always bright, but the resort's true character is shaped by the people who visit. One thing's for sure – there's never a dull moment at Hedonism II. Hedonism II features 2 clothing optional and one fully nude pool.
Desire Pearl – Riviera Maya, Mexico
Desire Pearl Resort & Spa Riviera Maya, our seductive, clothing optional sanctuary in the Mexican Caribbean, invites you to come with your partner to discover a world of deliciously sensual experiences. A paradise for couples only, this is the place where you can reinvent the meaning of passion, forget inhibitions and enjoy adventures that go beyond your imagination.
Surrounded by lingering ocean breezes, powdery white sand and the captivating, picture-perfect hues of the Caribbean Sea, Desire Pearl Resort & Spa Riviera Maya is found in an alluring beach of Puerto Morelos, as an idyllic setting where your most secret fantasies can become true. Desire Pearl is a clothing optional destination.
Desire – Riviera Maya, Mexico
Conceived as a village, Desire has a superb architectural design that blends seamlessly with its vibrant and tropical surroundings, the resort features 114 guest rooms and suites with views overlooking the lush gardens or breathtaking Caribbean Sea. An all-inclusive formula provides Gourmet wining, dining and lounging. An exciting nightclub, full-service gym, and luxurious spa are here for your pleasure. Activities, entertainment, and water sports are a must, providing you with inspiring, flirtatious, socializing and multiple ways to let yourself loose. Desire Riviera Maya is a clothing optional destination.
Temptation Cancun Resort – Cancun, Mexico
Experience up close and personal, our unique, one-of-a-kind "Playground for Grown-Ups", 21+. Brace yourself for a whole new level of electrifying, adult vacationing! While playing at our adult-centric, superior all-inclusive, topless-optional resort, you will enjoy a sense of freedom and empowerment you never knew existed, and not to mention an insanely sexy amount of fun.
Karim Rashid, the creator of "sensual minimalism", concept inspired by the human body, has redefined Cancun's skyline with a spectacular, seven-story, 428 room superstructure full of sensual curves and bright colors, stimulating you with a sensual vibe throughout the entire property. Temptations is a topless optional destination.
Hidden Beach -Riveria Maya, Mexico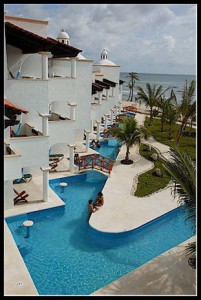 The Only Luxurious All-inclusive Nudist Resort in The Mexican Caribbean! Consisting of 42 beachfront suites, it is a secluded adults only property, perfect for couples and singles alike. Located just one hour south of Cancun Airport, Hidden Beach Resort lies on a stretch of white sand beach offering spectacular vistas of the Mexican Caribbean sea. Hidden Beach blends signature services such as personalized check-in with a welcome glass of champagne or the exclusive concierge service with charming architecture to create an atmosphere of understated luxury. Hidden Beach Resort is for guests who have nothing to hide. It's designed specifically for nudists, with an intimate size, a secluded location, fun spots for sunning, and a host of nude recreational opportunities. Hidden Beach is a clothing optional destination.
Desire Cruises – Sensuality. Eroticism. Pleasure.
Desire Greek Island Cruise 2020 – For the first-time ever, passengers will be able to enjoy a luxurious, all-inclusive onboard cruise experience!

Join us aboard Desire's sensual sanctuary at sea, from September 26th – October 3rd, 2020, to experience first-hand, the Sensual Way to Sail Away… This voyage, departing and culminating in Athens, Greece, will stop in several breathtaking ports along the Mediterranean coasts of both Greece & Turkey. For the first-time ever, passengers will be able to enjoy a luxurious, all-inclusive program, that was conceived to ensure a truly original experience, with exclusive, world-class services and amenities such as; designated clothing-optional areas, a private playroom, adult-oriented entertainment, provocative theme nights, exquisite culinary experiences, as well as sophisticated Staterooms & Suites.
Temptations Cruise 2020 – A Dare to try something different!
TEMPTATION CARIBBEAN CRUISE FEBRUARY 11 – 16, 2021
TAMPA / KEY WEST / COSTA MAYA
Once again, we're taking Temptation offshore to explore! Ladies and gentlemen, it's show time!
Innovation distinguishes between leaders and followers, and the Temptation Caribbean Cruise is no follower. We live and love to party, because we are the party, and this party just got naughty. We are SEXY BY NATURE, NAUGHTY BY CHOICE!
Daytime is playtime in our provocative playground where our Play Makers provide the atmosphere, and you, our sexy sailors, provide the fun. When the sun goes down and the sound goes up, get ready for some new, sexy, signature themes to dominate your nights.
We've stepped out of the box and dared to be different, all in order to develop an exceptional list of cruise-only features, such as: the R-Rated Red Room, Spicy Workshops, Naughty Nighttime Pool Parties, and a Guest DJ line-up that will rock your world.
And we've saved the best news for last. For a stress-free voyage at sea, the Temptation Caribbean Cruise includes the Deluxe Beverage Package and three dining venues!
What are you waiting for? Book to board the 2nd Temptation Caribbean Cruise, Naughty by Nature is our name, non-stop party is our game!