Tom's Trips hosts trips to some of the most exotic and erotic destinations on the planet. The resorts we partner with offer the finest in all-inclusive experiences. We have hosted trips to all of these resorts and can attest first hand to the service and inviting atmosphere that exists. We welcome you to join us in exploring the many pleasures that Hedonism II, Desire and Caliente have to offer.
Remember – For a Good Time Call Tom's Trips
Hedonism II – Negril, Jamaica
From the moment Hedonism II's gates opened twenty-five years ago, it's been the most widely recognized, and notorious, resort in the world. Words really can't quite describe the thrill of actually being here. It's the ultimate guilty pleasure, only without the guilt. "There's no such thing as a typical day at Hedonism II." No two days are ever alike. Sure, the water's always warm and the sun's always bright, but the resort's true character is shaped by the people who visit. One thing's for sure – there's never a dull moment at Hedonism II.

Desire Pearl – Riviera Maya, Mexico
Desire Pearl Resort & Spa Riviera Maya, our seductive, clothing optional sanctuary in the Mexican Caribbean, invites you to come with your partner to discover a world of deliciously sensual experiences. A paradise for couples only, this is the place where you can reinvent the meaning of passion, forget inhibitions and enjoy adventures that go beyond your imagination.
Surrounded by lingering ocean breezes, powdery white sand and the captivating, picture-perfect hues of the Caribbean Sea, Desire Pearl Resort & Spa Riviera Maya is found in an alluring beach of Puerto Morelos, as an idyllic setting where your most secret fantasies can become true.
Desire – Riviera Maya, Mexico
Conceived as a village, Desire has a superb architectural design that blends seamlessly with its vibrant and tropical surroundings, the resort features 114 guest rooms and suites with views overlooking the lush gardens or breathtaking Caribbean Sea. An all-inclusive formula provides Gourmet wining, dining and lounging. An exciting nightclub, full-service gym, and luxurious spa are here for your pleasure. Activities, entertainment, and water sports are a must, providing you with inspiring, flirtatious, socializing and multiple ways to let yourself loose.
Hidden Beach -Riveria Maya, Mexico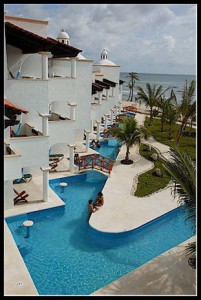 The Only Luxurious All-inclusive Nudist Resort in The Mexican Caribbean! Consisting of 42 beachfront suites, it is a secluded adults only property, perfect for couples and singles alike. Located just one hour south of Cancun Airport, Hidden Beach Resort lies on a stretch of white sand beach offering spectacular vistas of the Mexican Caribbean sea. Hidden Beach blends signature services such as personalized check-in with a welcome glass of champagne or the exclusive concierge service with charming architecture to create an atmosphere of understated luxury. Hidden Beach Resort is for guests who have nothing to hide. It's designed specifically for nudists, with an intimate size, a secluded location, fun spots for sunning, and a host of nude recreational opportunities.
Sea Mountain Resort – Palm Springs California
Now enjoy the fresh curative spring water nude pool and European style tanning spas for the most awarded VIP day in California – A true very up scale, safe, clean, no pressure experience – Sip your drinks by the pool clothes free as the sun heats your body – Watch the stars in nude bliss or party hearty at the only resort that lets you be you – a VIP resort that caters to Females and couples only from all over the world – The only experience in California or the USA of it's kind. It's a safe and fun environment. Sea Mountain is a wonderful palace of retreat for those who love an exotic club area with nude spas, sauna, 24-hour dancing and indoor area for whatever weather. The perfect nudist or Lifestyles clothing optional experience indoors and out. Whatever the climate, whatever your attitude you are certain to find what ever desire for your day or night at the Sea Mountain.
Couples Cruises – A vast array of exotic locations
Tom's Trips is proud to say that together with our friends from Couples Cruise we have put together more Couples cruises than any other company and we offer the best customer service available. If you like to cruise and want to cruise with other open minded couples, then our cruises are for you. Our cruises have taken our couples from Alaska, to the Caribbean, from the Mediterranean to the Mexican Riviera.
Our smaller groups offer unique adventures and ports (like the upcoming Southern Caribbean Cruise and our Galapagos Adventure) while maintaining privacy and discretion.
Our full ship charter offers the ultimate in a luxury lifestyle vacation. Because we have the entire ship, you won't see any kids and the entire pool deck will be clothing optional. There will be Theme Dances, sexy shows, special seminars and private play areas where you can live out your fantasies while floating around the warm Caribbean waters. It doesn't get any better than this!