Tom's Trips brings you the most exciting in Entertainment & Host couples to make your vacation Epic
We at Tom's Trips are always striving to bring you quality entertainment and experience when you book your vacation with our company. Below is a list of our Entertainment and many of our Host Couples with bio's that you can read to better get a feel for what you will expect on your booked event with us. We also list all the events each host couple will be attending so if you would like to travel with a specific host couple, please click the event link below their bio and book your trip with them!
Mark Maze– Magician/Entertainer
Mark is a master of sleight-of-hand entertainment. He has been delighting and amazing audiences with his comedy, magic, and singing talents for nearly 25 years. He has been featured on television, radio and was Voted LIFESTYLE ENTERTAINER OF THE YEAR. Most recently Mark appeared on Playboys', "69 things to do before you die." His hilarious, audience interactive show, is very funny without vulgarity, and enjoyed by both men and women. Over the years, Mark has become known for his high level of technical skill infused with crackling energy and an unbelievable talent for making people laugh. He has performed at lifestyle events for many years and considers it his specialty. "I never promise more than I can deliver, and I always deliver more than I promised. My greatest joy is performing the Magic I love so much and bringing people laughter"!
Events Mark Maze will be Performing at – New Years Eve Week – Pineapple Week – Lifestyle Party Week – Swingers Delight – FUNderLUST – Spring Swing – Ms No Swim Suit – Swing Break – Old Fat Guys – Fantasy Week – Switch Hitters – Spicy Cajuns – Friction Parties – Zoo Krew – Sultry Seductions – 4th of July – Zoo Krew II – Sunny Buns – OctoberFest – Thanksgiving – Party in the USA
Tom and Bunny – Travel Consultants & Promotions
Tom and Bunny come to Tom's Trips with a background in the adult lifestyle. As previous managers of one of the most awarded California lifestyle club for the past 19 years and travelling with Tom's Trips for the past 6 years, these two know what hospitality is all about. along with being Tom's Trips newest Travel Consultants, Tom and Bunny will be traveling the nation in our very own grass roots campaign to bring brand awareness to other clubs, conventions, cruises and anything lifestyle related.
Tom and Bunny will also be taking control of our Social Media on Facebook, Twitter and Instagram and building our brand on Kasidie.com where you can find them under their profile TomandBunny
Tom and Bunny have also been active in producing YouTube videos (Click here to watch their Videos) with the focus of their videos on the Swinging Lifestyle and working with Tom's Trips we encourage them to continue their videos as educational for new and existing couples and singles in the swinging lifestyle.
If you would like to see where Tom and Bunny will be at an event near you, please CLICK THIS LINK and go meet them in person and see why they are a valuable asset to the Tom's Trips family.
Events Tom and Bunny will be hosting – FUNderLUST – Ms No Swim Suit – Spicy Cajuns – Kasidie Krush – Sunny Buns – Party in the USA
Larry and Deb – Travel Consultants
We are Larry and Deb from the Kansas City, MO area. We have been hosting trips to Hedonism II for many years now and have been to Hedonism II at last count 24 times. 2016 will be the 17th year in a row that we have organized/hosted the Zoo Krew trip. We have enjoyed other trips during Jan. and Oct. to Hedonism II as well. In addition to the Annual Zoo Krew trip in late April/May each year we are looking forward to the 1st Annual Zoo Krew Fall Fun Fest at Hedonism II in Sept. 2016. We have really enjoyed and treasured the great friends we have met and life long memories we have made during these trips. We hope you will consider joining us soon at Hedo II. We can promise a great trip with some fantastic people.
We also ran a Lifestyle Club for 12 years and were the organizers of The Show Me Convention during it's 10 year run. Over the years we have been guest speakers at many lifestyle events and conventions in numerous states. Larry is also know for his DJ work in the Midwest.
We consider it an honor to be associated with Tom's Trips and everyone at Tom's. Many of the other staff members we have come to think of as family. This closeness from the people at Tom's is part of what makes Tom's Trips the best choice for your vacation needs. We look forward to where the future leads us with Tom's. We look forward to meeting you in paradise – Larry and Deb
Events Larry and Deb will be hosting – Zoo Krew – Zoo Krew II – Party in the USA
Terry and Terry – Host Couple
Terry and Terry – A lot of you know us, and we've chatted with many more of you on the Tom's Trips' Hedo Yahoo site. We have been escorting lifestyles-type trips for 20+ years and have taken groups to Jamaica; Kauai; Fiji; Solare/Eden Resort in Loreto; Ixtapa; Puerto Vallarta; Blue Bay Getaway in Cancun; Mykonos, Santorini and Athens in Greece; and Desire Resort in Cancun and Los Cabos.
We have traveled extensively, visiting various Caribbean islands on a lifestyles Windjammer Cruise, Costa Rica, England, Ireland, France, Italy, Canada, China, and many places in Mexico. We are "bi-national", as we live in Ensenada, Baja California, Mexico, but still have a home in Orange County in Southern California. We are both "semi-retired" and enjoy hosting trips and working part-time for Tom's Trips.
We look forward to greeting you when you check in at the Tom's Trips Express Check In or at one of the various events we host when you travel with us. We put together a theme night list and try to get our groups together on the Yahoo site before each trip. We look forward to meeting you.
Events Terry and Terry will be hosting – Swingers Delight
Ron and Jenn – Host Couple
Hi there, Ron n' Jenn here and we've been part of the lifestyle community for 15+ years and feel we have a good understanding of what's it all about. We sometimes think that we've seen it and done it all, but then were always finding that next new adventure and we are like WOW all over again and hope that others can share in that same experience. We think this helps us know what fellow lifestylers like us want, especially in a vacation, which is why we have been fortunate to travel and be a Host Couple for Tom's Trips for the past 10+ years.
We've made a lot of great friends along the way and love making new ones – not to mention all the hot fun and adventures we have experienced – and we hope to continue for many years to come. We've been vacationing to HEDOnism II in January every year since 1997 and have no plans in sight to ever stop the fun! We've also traveled/hosted trips at Desire, partied at conventions in Las Vegas, New Orleans, and Florida, traveled abroad to other lifestyle venues, and are always keeping the parties going back home in Long Island, New York.
But without a doubt, HEDOnism II is by far our home away from home. We think the key to an eXXXciting vacation, especially for the ones returning to HEDO year after year, is to keep the vibe fresh with new and fun themes and activities, also adding in the new ownership and renovations and HEDOnism II is more on top of its game than ever before! We have worked hard as a Host Couple over the years by listening to what people want and doing our best to make it a reality. We are there to help the repeaters, as well as help the shy ones; newbees, etc. get involved and meet other lifestylers. You can count on us being butt naked and partying alongside you every step of the way.
So be ready to let loose, relax, unwind, and have lots of fun! We hope to have the opportunity to vacation with you as your Host Couple – old friends and new -and look forward to meeting you! Events Ron and Jenn will be hosting – Lifestyle Party Week
Rick and Nancy- Host Couple

Hi,we are Rick and Nancy and we have been traveling with Tom's Trips for over 18 years. We started going to Jamaica in 1990 and decided that this was the place for us from the moment we saw it. We love Jamaica so much we have been to Hedonism II over 50 times. We have also been to Hedo III and Breezes. Although Hedo is pretty much our home away from home, we are no stranger to the other Toms Trips destinations. We have visited Desire and Hidden Beach in Mexico and have cruised with Carnival and Royal Caribbean and visited over 22 islands in the Caribbean. We enjoy meeting new people as well as seeing all our Caribbean friends again that we have met in the past. We look forward to greeting each one of you when you arrive on a Toms Trips event as well as spending time and having fun while getting to know each of you. We will work hard to be make your future vacations as memorable and enjoyable as your past vacations.
Events Rick and Nancy will be hosting – Spring Swing – Ms No Swim Suit – 4th of July – Thanksgiving
Mike and Denise- Host Couple
We are Mike and Denise. We are a long time happily married couple who have enjoyed the lifestyle for 20 plus years. We have made hundreds of cherished friendships around the country and abroad and enjoy the special freedoms, friendships and relationships we have formed over the years. We have attended many clubs and conventions including Naughty in Nawlins (8 times) where Denise was the first winner of the Ms. No Swimsuit Contest for that NIN convention in July of 2011. She went on to compete in the Ms. No Swimsuit at Hedo II this past March 2012 where we met some outstanding couples and competitors from various clubs around the U.S. It turned out to be an amazing 8 days that followed filled with lifestyle fun, bonding of long term friendships and a very entertaining week of competition. It's a great event to attend so why not come back in March?!
We live close enough to Atlanta that we attend the world famous Trapeze Club a couple of times a month. You are here, you're in Jamaica and you're at Hedo! So….relax, have tons of fun, and we look forward to getting to know you!!!
We are honored and anxious to help you enjoy your stay at Hedo II. Let us know if you have any questions or concerns. Enjoy a great week of fun!!
Events Mike and Denise will be hosting – Swingers Delight
Scott and Kathy – Host Couple
We are Scott and Kathy from Nova Scotia Canada. We have been traveling to lifestyle resorts, cruises, communities, and Hotel takeovers for over ten years. We have been to Hedonism II and III, Desire Cancun and Los Cabos, Swinger Cruises, Caliente, The Rooftop, Sea Mountain Inn, Northhaven, and Splash Fest and we are looking to add to this list continually. We have met so many wonderful people that it's not a surprise when we go somewhere new that someone comes up to us to say "hey we met you (wherever)". This lifestyle circle makes the world a much smaller place.
With over 25 visits under our belts to Hedonism II, we know how to get around the resort. We know how to get the party started and make sure everyone around is having a great time. We are just as comfortable talking with new friends one to one as we are in front of everyone getting some crazy game going. If you are bored – come see us – we'll get something happening. Since we started travelling we made it a goal to meet people – and with every trip we make new friends and have new experiences. The friends we meet along the way we see as gold nuggets – and we try to collect as many gold nuggets as we can. Just when we say we've seen it all – bam! We look forward to meeting all of you on our next trip with Tom's Trips.
Events Scott and Kathy will be hosting – Pineapple Week – Lifestyle Party Week – Fantasy Week – Switch Hitters – Friction Parties – OctoberFest
John and Bev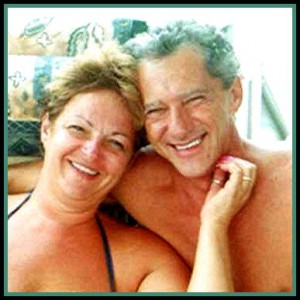 If you have had to pleasure to travel with Toms Trips in the past or visited any of the Mid-west lifestyle clubs in the last 20 years, then you probably have met us. We hope to bring to Hedo our own brand of ADULT LIFESTYLE FUN that we have helped to provide to countless couples all summer at "Band Camp" in the Irish Hills of Michigan.
NorthavenResort.com
.
Our rich history over the past two decades with Toms Trips, the Hedonism Entertainment Staff and management gives us a vehicle for you to enjoy some of the most enjoyable times you will ever spend during your time in Jamaica.
Whether you are a newbie or a seasoned clothing optional vacationer, you will experience a unique, no pressure "adult fun environment" because of the people that join our group at Hedonism. They are a friendly, non-judgmental family of couples that enjoy the lifestyle and each other and we are proud to be part of that.
Events John & Bev will be hosting – FUNderLUST
Jay and Tee
Hello All, we are very excited to be a new host couple for Tom's Trips New Year's Eve Party. We are high school sweethearts and (after a little break in college J ) have been married for over 15 years. We've also worked together for just as long. Yes, we have worked together every day for 15 years and still love the crap out of each other. It's a little crazy some day's but it's probably the reason we also appreciate our vacations at a very enthusiastic level and Hedo is the right place to do it.
Back in 2003 "J" asked me if he could take me on vacation to Jamaica, of course I was ecstatic, he then waited until 3 days before we left to tell me there was a "clothing optional beach" at the resort we were going to and I could have just died, and to this day still laugh at how absurd of a description that was at the time. But as they say the rest is history because we both quickly realized "these are my people," fun, outgoing, freaky people who just enjoy life.
Two years and 3 trips later we got engaged at Hedo II. Then the following year we were married at Sandals, Negril only to be followed by a 10 day honeymoon at Hedo. We spent only the required minimum of 3 days at Sandals before we checked out. Our honeymoon is a story for another time…J
We've been to Hedo II & III 12 times, and Desire Pearl and Riviera Maya 7 times, as well as several other lifestyle friendly locations and cruises over the years. We absolutely love to travel, both in the States and internationally a few times a year but always include at least one annual lifestyle vacation. We feel completely at home in Jamaica and we love the atmosphere at Hedo. Meeting and talking to so many people, having fun in the sun and enjoying life the way God intended….Naked, that's what we love. We're really looking forward to having fun with all of you and being part of Tom's Trips. OX's, J & T
Events Jay and Tee will be hosting – New Years Eve Week
Dave and Kim
Events Dave and Kim will be hosting – Swing Break
Angela and Ricky
We are Angela and Ricky from Nova Scotia, Canada (and no we do not say "eh" lol). This will be our 5th year hosting the Switch Hitters group at Hedonism II. We bring along with us a great party and sexy vibe and hope you enjoy your time with us. We go to local lifestyle events, but there is no party like a Hedo party! We love the atmosphere there and the people we have met on our trips have made for some lifelong friends. Can't wait to party with you in the hot Jamaican sun! xoxo
Bob and Maureen – Host Couple, Photographer/Lifestyle Reporter
Hello we are Bob and Maureen, We have been part of the Tom's Trips group trips at Hedonism II for many years. We love Jamaica, scuba diving and new adventures. We previously owned and published Swinger Scoreboard Magazine which took us all over covering many different conventions and events. Bob now specializes in photography and will be the photographer you see at many events. Maureen still writes stories and articles from time to time. We both love meeting new people. When not in Jamaica we travel in our motor home. It is our home away from home and we have traveled through most of the United States. We attend many different camp outs, 4-wheeling with family and biker events with friends. We hope to see you on the bus to Hedo, Bob and Maureen