Tom's Trips brings you the most exciting in Entertainment & Host couples to make your vacation Epic
We at Tom's Trips are always striving to bring you quality entertainment and experience when you book your vacation with our company. Below is a list of our Entertainment and many of our Host Couples with bio's that you can read to better get a feel for what you will expect on your booked event with us. We also list all the events each host couple will be attending so if you would like to travel with a specific host couple, please click the event link below their bio and book your trip with them!
Tom and Bunny – Travel Consultants & Promotions
Tom and Bunny come to Tom's Trips with a background in the adult lifestyle. As previous managers of one of the most awarded California lifestyle club for the past 19 years and travelling with Tom's Trips for the past 6 years, these two know what hospitality is all about. along with being Tom's Trips newest Travel Consultants, Tom and Bunny will be traveling the nation in our very own grass roots campaign to bring brand awareness to other clubs, conventions, cruises and anything lifestyle related. Read entire Bio for Tom and Bunny – Click Here
Events Tom and Bunny will be hosting – FUNderLUST – Ms No Swim Suit – Kasidie Krush – Sunny Buns – BiWeek
Terry and Terry – Host Couple
Terry and Terry – A lot of you know us, and we've chatted with many more of you on the Tom's Trips' Hedo Yahoo site. We have been escorting lifestyles-type trips for 20+ years and have taken groups to Jamaica; Kauai; Fiji; Solare/Eden Resort in Loreto; Ixtapa; Puerto Vallarta; Blue Bay Getaway in Cancun; Mykonos, Santorini and Athens in Greece; and Desire Resort in Cancun and Los Cabos. – Read entire Bio for Terry and Terry – Click Here
Events Terry and Terry will be hosting – Swingers Delight
Ron and Jenn – Host Couple
Hi there, Ron n' Jenn here and we've been part of the lifestyle community for 15+ years and feel we have a good understanding of what's it all about. We sometimes think that we've seen it and done it all, but then were always finding that next new adventure and we are like WOW all over again and hope that others can share in that same experience. – Read Ron and Jenn's entire Bio – Click Here
Events Ron and Jenn will be hosting – Lifestyle Party Week
Mike and Denise- Host Couple
Hello! We are Mike & Denise. We have been a part of the hosting staff for Tom's Trips since 2012. Denise won the MsNoSwimsuit in New Orleans and went on to participate in Jamaica that year. We met Scott & Michelle and other Tom's Staff and have been excited to be a part of the team ever since. We are 27 years in the Life Style and have made thousands of friends and contacts throughout the years. – Read Mike and Denise entire Bio – Click Here
Events Mike and Denise will be hosting – Swingers Delight
Scott and Kathy – Host Couple
We are Scott and Kathy from Nova Scotia Canada. We have been traveling to lifestyle resorts, cruises, communities, and Hotel takeovers for over ten years. We have been to Hedonism II and III, Desire Cancun and Los Cabos, Swinger Cruises, Caliente, The Rooftop, Sea Mountain Inn, Northhaven, and Splash Fest and we are looking to add to this list continually. – Read Scott and Kathy's entire Bio – Click Here
Events Scott and Kathy will be hosting – Pineapple Week – Lifestyle Party Week – Fantasy Week – L.U.S.H. – Friction Parties – OctoberFest
John and Bev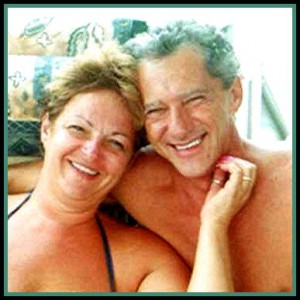 If you have had to pleasure to travel with Toms Trips in the past or visited any of the Mid-west lifestyle clubs in the last 20 years, then you probably have met us. We hope to bring to Hedo our own brand of ADULT LIFESTYLE FUN that we have helped to provide to countless couples all summer at "Band Camp" in the Irish Hills of Michigan. –
Read John and Bev's entire Bio – Click Here
Events John & Bev will be hosting – Ms No Swim Suit
Jay and Tee
Hello All, we are very excited to be a new host couple for Tom's Trips New Year's Eve Party. We are high school sweethearts and (after a little break in college J ) have been married for over 15 years. We've also worked together for just as long. Yes, we have worked together every day for 15 years and still love the crap out of each other. – Read Jay and Tee's entire Bio – Click Here
Events Jay and Tee will be hosting – New Years Eve Week
Additional Host Couples
Dave and Kim
Events Dave and Kim will be hosting – Swing Break– Old Fat Guys with Hot Chicks
Ricky and Angela
We are Angela and Ricky from Nova Scotia, Canada (and no we do not say "eh" lol). This will be our 5th year hosting the Switch Hitters group at Hedonism II. We bring along with us a great party and sexy vibe and hope you enjoy your time with us. We go to local lifestyle events, but there is no party like a Hedo party! We love the atmosphere there and the people we have met on our trips have made for some lifelong friends. Can't wait to party with you in the hot Jamaican sun! xoxo
Events Ricky and Angela will be hosting – L.U.S.H.